Clocks and Barometers
Our heritage is firmly rooted in clocks, and they remain a core element of our product offering. We have 3 unique clock brands offering over 1000 timepieces.

WILLIAM WIDDOP®, HOMETIME® and Rhythm each offer something different, so there is the perfect range for all tastes and budgets. Our manufacturing background in fine clocks, dating back to 1983, has enabled us to establish a reputation for quality and customer service excellence.

For more information on Widdop wholesale clocks, register with us today.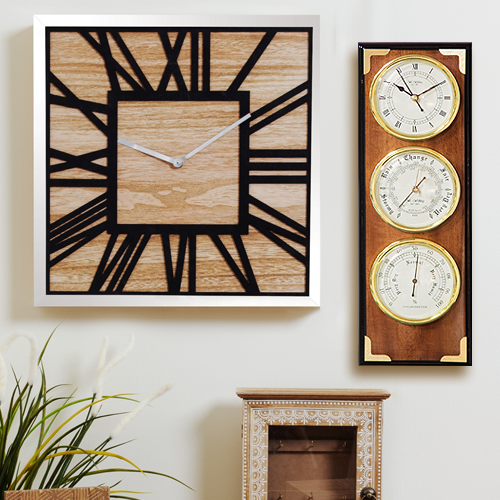 Shop Clocks and Barometers Wholesale Online UK
Our William Widdop clocks are designed to stand the test of time. They're an investment piece. We design around the belief that they're accessories for life. They're designed and manufactured to the highest possible standard guaranteeing they can be around for generations to enjoy. From an aesthetic standpoint, our clocks marry together the timeless and classical structures of the clock design, whilst also incorporating modern elements, such as curved glass panels and slimline hands. We have a wide variety of designs thoughtfully crafted to suit a variety of interior designs.

HOMETIME® clocks were added to our portfolio of brands in 2010 and consist of a range of 150 wall and mantel clocks. The on-trend brand is the perfect wholesale clock choice for retailers looking for affordable, yet good quality and stylish products. The range includes a wide variety of styles including shabby chic wooden wall clocks, oversized heart shaped clocks and novelty shaped clocks for the perfect gift idea.

Widdop are also extremely proud to offer wholesale clocks from luxury clock brand Rhythm. Handcrafted with care, Rhythm clocks truly stand out from the crowd. Offering eye-catching mantel, wall and alarm clocks, they look fantastic in store and offer retailers something very special.

Across all three of our wholesale clock brands we offer a wide selection of clock types. Whether you're looking to stock on-trend shabby chic wholesale wall clocks, traditional wooden mantel clocks or a variety of miniature novelty clocks, you will find exactly what you're looking for here. It's this commitment to the industry that has allowed us to service a wide range of customers across five generations.

Browse our entire clock selection by category. We also offer a full range of lithium batteries, which are recommended over other battery types for longevity in quartz clock movements.