NEW AUTUMN / WINTER COLLECTIONS NOW AVAILABLE ONLINE
18th July, 2019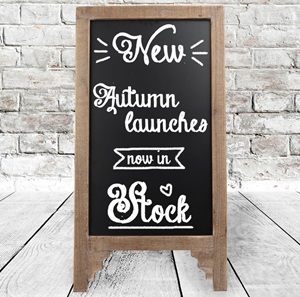 Our brand new Autumn/Winter 2019 lines are available to shop online now. With over 1000 new additions across all brands (and more to come over the next couple of weeks) there is the perfect breath of freshness to kick start your transition into the golden quarter.
Flagship wedding brand Amore welcomes a range of affordable glass photo frames with Champagne gold glitter floral embellishments and titles to suit anniversaries, the wedding day and engagements.
Best-selling baby brand Bambino unveils a range of nursery accessories including teepees and tents which are the must have baby item of the year. The gender reveal collection is the perfect way to tap in to the sector's fastest growing occasion, as Gender Reveal and Baby Shower parties see the biggest national growth in sales of any baby related gifting occasion.
Just 4 Kids introduces the Roald Dahl collection with a range of giftables featuring Quentin Blake's iconic illustrations from Dahl's most popular classics: Charlie & The Chocolate Factory, James & The Giant Peach, Matilda and The BFG.
The Disney collection offers you the chance to get a portion of the success of The Lion King, Toy Story 4 and Aladdin. Harvey Makin introduces Harvey's Bored Games, offering desktop and pocket games perfect as stocking fillers.
This is just a taste of the newness on offer. SHOP NOW: https://www.widdop.co.uk/whats-new