Brightside Award Winners!
21st October, 2020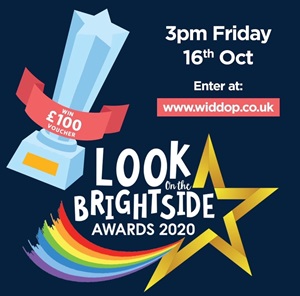 Our look on the Brightside awards were to celebrate outstanding achievements in these challenging and unprecedented times. We have been delighted to award some of the very best in entrepreneurial business leadership and local community engagement with an award to celebrate their hard work and determination. As we continue to support each other, grow and adapt to a new way of life and running business, we felt it was a great time to share some of those amazing achievements with you all. It has been incredibly inspiring to see, hear and read your entries. Some of the initiatives we have seen are phenomenal and something to be admired.

Without further ado, here are our winners and their exceptional initiatives! And if you haven't already seen it, go to our Facebook or Instagram page and check out the Live Awards Announcement we did earlier.
BEST INSTORE VISUAL DISPLAY
---
Highworth Emporium have really embraced the Look on the Brightside vision with bright, uplifting and eye-catching displays. We love the fun themes and the creativeness that has gone into these displays. Well done! https://www.highworthemporium.co.uk/

BEST BUSINESS INITIATIVE

---
The Lovely Keepsake Company did an amazing job of thinking on their feet, being exceptionally agile in the current climate and adapted their offering to suit the new needs and shopping habits of their customers. They quickly launched 2 new websites and developed new ways of producing product in-house that meant their customers were never left without. And this quick thinking didn't just keep them afloat during these strange times, it actually grew their business significantly and that of their suppliers! Well done, and long may this continue! https://www.thelovelykeepsakecompany.co.uk/

BEST COMMUNITY ENGAGEMENT
---
Sunny Days have happiness, positivity and equality embedded into their already wonderful business and have faced the fearful and uncertain COVID crisis head on by spreading their care and positivity even further when they know their customers need it most. Hoping for their website to become a family hub they have filled it with wonderfully written social stories for children and parents to enjoy as well as illustrations that can be coloured in. And let's not forget Sunny, the friendliest Elephant you will ever meet, spreading happiness, joy, kindness and care to all.

OUTSTANDING ACHIEVEMENT AWARD
---
Trago Mills have stood out to us not just in the way they do business, but also in the way they have faced change and transformation. They have engaged with Widdop at every level possible, whether it was digital, in person, or at our roadshow and anything else that has been needed to drive their busines forward and they have gone the extra mile to make that happen. Congratulations and we look forward to continuing to work with you! https://www.trago.co.uk/